Malika Andrews is single (Source: ESPN)
Malika Andrews is a sports journalist who recently covered her first NBA finals this year. 
People widely praised her all across social media for her veteran-like performance. 
The 26-years old sports journalist is getting fame all over the Internet lately grabbing herself a fanbase. 
---
People see sports personalities on the screen but people really don't notice people behind the screen documenting their life. However, Malika Andrews grabbed the spotlight as people are praising her performance during the NBA finals.
It is hard for people to believe that it was her first time covering the NBA finals with her veteran performance. With the growing popularity on social media, people also want to know more about her personal life. Is she single or dating anyone?
Is Malika Andrews single?
With her outstanding performance, Andrews has a great career of 4 years in the industry. She has worked very hard to make her spot in between many emerging stars in the field of journalism. With her covering the NBA, she got recognition among the people. With her popularity, people started looking for her on the Internet to know more about her. Apart from looking for anything else about her, people wanted to know her love life.
As of now, she is most probably single. Looking at her social media, it is safe to say she is currently single. Meanwhile, some people noticed her wearing a ring on her wedding finger which led to the speculations of her marriage. These rumors flew on the Internet 2 years back which she has not confirmed to date. Many people were sure that she was committed but the sports journalist never confirmed the news. Though being a public figure, she tends to keep her personal life under the rocks.
Reporting NBA for the first time
People hardly believed this was the first time that Andrews covered the NBA finals. She gave her phenomenal performance which covering the biggest basketball league in North America. The ESPN star did not miss a beat or flub a sentence during Tuesday night's celebration. Fans, fellow reporters, and her colleagues praised her across social media for veteran-like performance. The longtime ESPN NFL insider, Adam Schefter, tweeted:
"Very impressive to watch a 26-year-old @malika_andrews interview the world-champion Milwaukee Bucks on national television, and handle it as smoothly and professionally as she has,"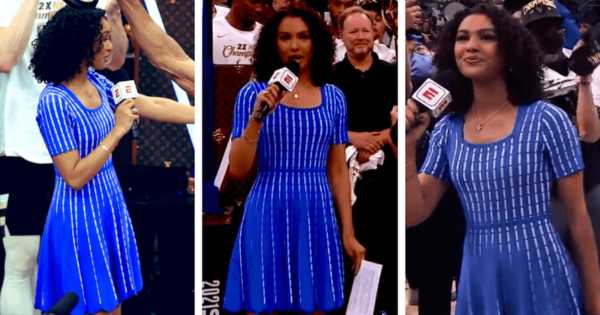 Fans and other reporters also praised her for handling the ceremony like a vet and also some called her 'role model'. The 26-years-old is the youngest sports broadcaster to host the NBA Finals Trophy ceremony.
More About Malika Andrews
Malika Andrews is an American NBA reporter on ESPN platforms including ESPN's website, ESPN RadioAndrews, and Sportscenter. She began her career as a reporter for the Chicago Tribune for a year. Before that, she worked as a James Reston reporting fellow in the sports department at The New York Times.